As I update my blog in February 2023, I checked back over my first blog posts. I've had this saved in my drafts since 2018, but I actually said goodbye to Bear in 2017. It took some time for me to grieve before writing this farewell, but now, I think it's time that it was shared. The pain did finally melt away, and made room for the fond memories we made together. 
Yesterday we said goodbye to our precious ferret, Bear.
I say 'we' because although his microchip read 'Bear Lock' on the day he left us, he was loved by so many different people.
Bear was brought into this world by a wonderful colleague of mine, 7 years ago. 
Soon after his birth, Bears mother was stolen by opportunistic thieves, but round the clock care ensured his survival.
Bear was supposed to be a 'working' ferret, like the rest of his rabbiting family. His job was to go down into rabbit warrens, and catch rabbits for food. But, unlike his dainty, athletic parents, Bear continued to grow to be a super-sized ferret, and before anyone knew it, he was far too large (and dopey) to go after rabbits. He would sooner take a nap next to the rabbits, than actually chase them.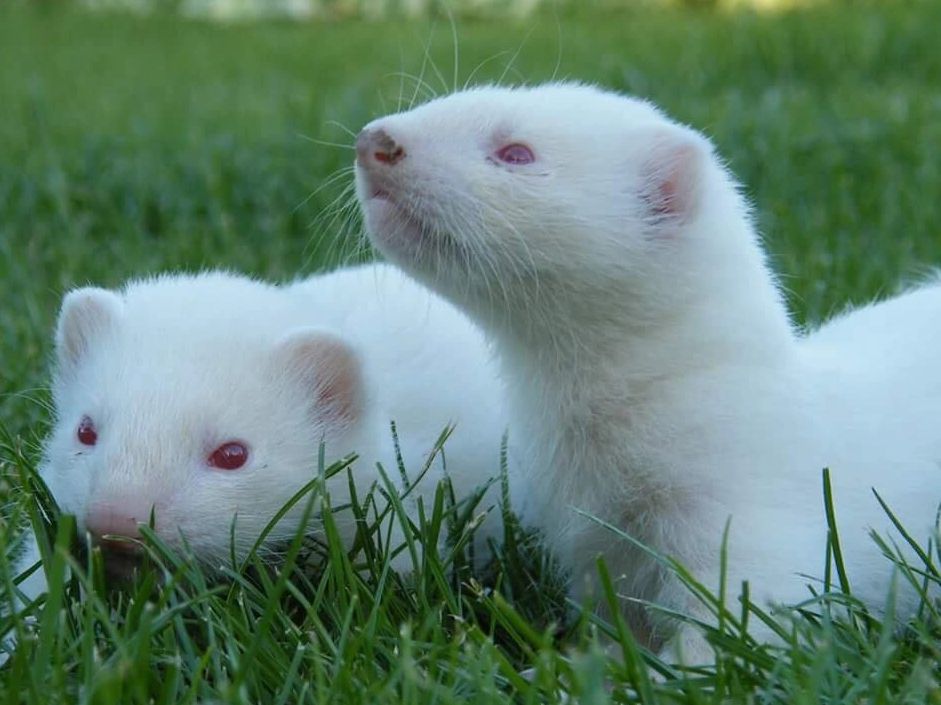 Bear was not the friendliest boy towards the other ferrets in his group, favouring the solo life. For this reason, my colleague looked for a new home for Bear as he was no longer happy living in the rabbiting group.
That's when my ex partner, Mike and I come into Bears story.
We had been looking in rescues for a ferret (preferably a polecat coloured one) to assist us with our educational animal presentations. Although we had our heart set on an adorably bouncy polecat kit at our local shelter, we'd heard wonderful things about Bear, and decided to meet him. We took one look at Bear with his 'concentration' face and huge, fluffy body and we instantly fell in love with him.
We brought him home that very night, unsure of how Bear would feel about being moved away from a naturalistic, outdoor enclosure with other ferrets for company, to being indoors in a custom enclosure and fancy beds, made by 'Ferret Couture UK'.
 We needn't have worried. He sniffed out the whole house to check for any other ferrets, but as soon as he knew the coast was clear, he immediately started plodding (Bear was never one to rush) around the house after either myself or Mike, and would put himself back to his new enclosure when he wanted to use his litter tray, or sleep - usually in a delightfully twisted shape.
We needn't have worried. He sniffed out the whole house to check for any other ferrets, but as soon as he knew the coast was clear, he immediately started plodding (Bear was never one to rush) around the house after either myself or my ex, and would put himself back to his new enclosure when he wanted to use his litter tray, or sleep - usually in a delightfully twisted shape. 
Bear proved to be a superstar on all of our shows, and more often than not, he was the animal the children loved the most. Not the magnificent owls, hyperactive meerkats or ridiculously soft chinchilla. No. They wanted gentle old Bear, who would allow children to squirt his Vitamin paste onto his belly, and sit contentedly in their laps, licking away at the paste as children stroked him.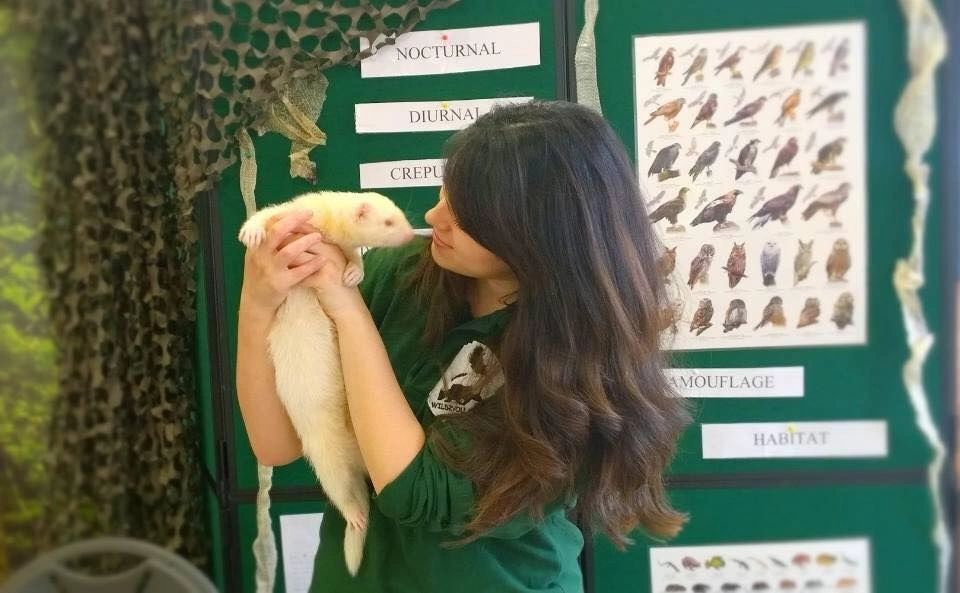 After the relationship broke down with my ex, Bear became my sole (and soul) companion at home. I can't say how lonely it is to live alone, and to work the unpredictable days and hours that I do, but Bear was always there when I needed a cuddle, even during the night if I couldn't sleep.
When romance sparked for me with my wonderful Danny, Bear gave his approval by falling asleep in Danny's hands. He had never even done this for me, so I knew that Danny was very special.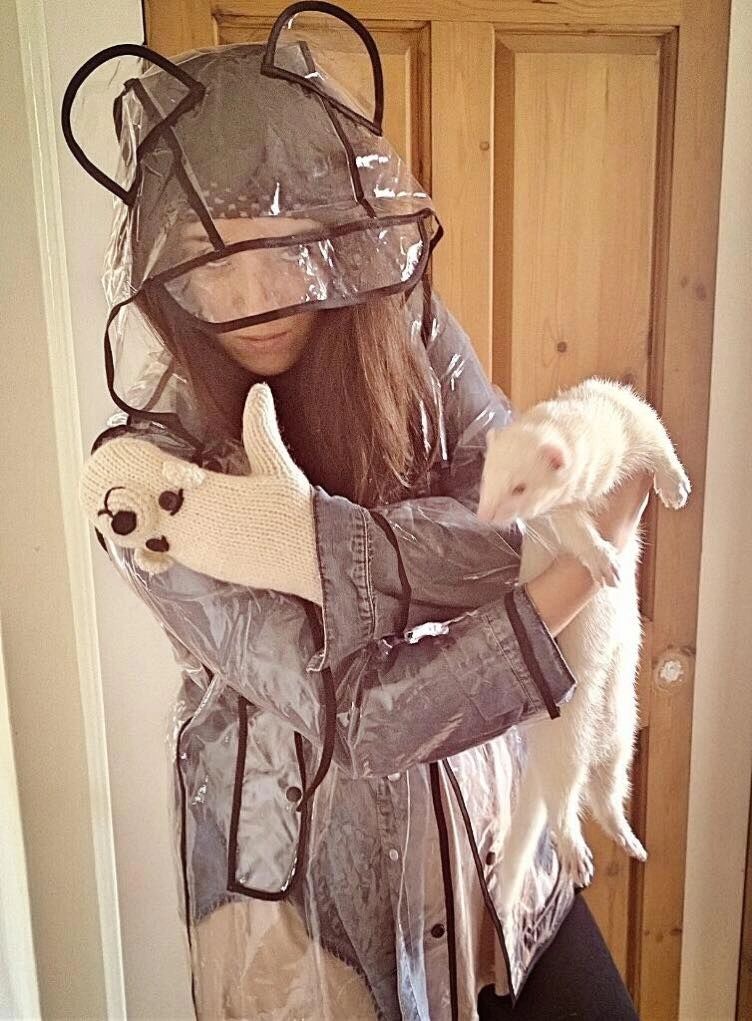 Bear stayed with me in the darkest of times.
Most notably before Christmas 2016, when I suffered a huge, personal loss. Bear was at home with me as I laid on the floor, lost blood and dipped in and out of consciousness, waiting for an ambulance. He nuzzled me and climbed onto me to lay down on my stomach as my world crashed around me. When I came home from hospital the next day, he could sense my grief and he curled up on my abdomen and slept there (for the first time ever) while I stroked him and sobbed into my pillow.
I can't count the number of times I stained his fur with mascara during my low moments, and I can count even less the amount of times he made me laugh or smile.
Bear had patience which I've never seen in another ferret. Patience with children, patience with being pampered at home and patience for endless selfies. He was even patient when he started to show his age and I had to go away for a month..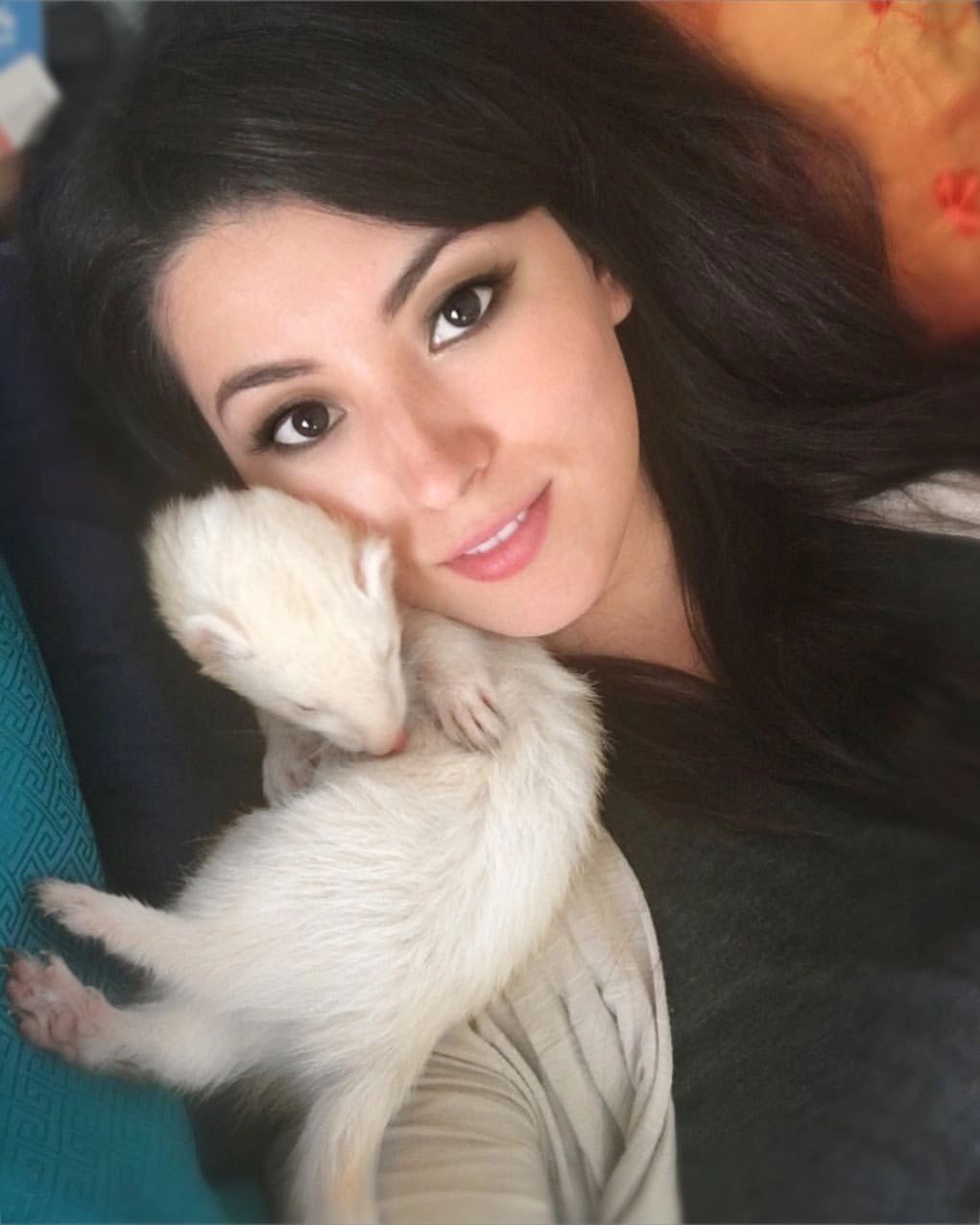 Best friends, Bear and Em 
Leaving Bear this Christmas was the hardest decision I've had to make with regards to his care. I knew he wasn't long for this world, but vets couldn't do anything. 
He had started eating a little less everyday, sleeping a little more, losing weight and being unable to replenish his chub.  Bear stayed with my colleague who brought him into this world, and I knew he'd have the best care there. Unfortunately, Bear deteriorated, but quick thinking by the family he stayed with, Ferret knowledge and a change in diet helped him to hang on until I could fly home to be with him. I stepped off the plane, dropped my suitcase home and immediately drove to collect my weasel.  Bear was quite sleepy and incoherent when I collected him, but his eyes popped open as wide as they could when I scooped him up, and he covered my nose in the little nose licks which he has only done for me. He knew I came back for him.
Although I'm grateful beyond words that Bear waited for me to come home, the last few days with Bear have been full of immense heartache.  Once or twice when Bear would voraciously inhale his raw diet, I dared to believe that he might make it for a few more weeks, or maybe even months.
Then, he stopped eating.
         Old Bear, beginning to show his age. 
No amount of persuasion could entice Bear to eat.  I considered having him put to sleep as an emergency in very early hours of Sunday 5th. But he climbed into my lap and accepted a few pieces of meat with gusto. We had one more night together, cuddled by the radiator and watching some of my favourite movies.  On Sunday morning, after staying up all night with him, Bear was more wobbly on his feet than ever, but his drive to follow me around the house as he usually does was strong, and although he had no energy left, he would desperately try to follow me, but could only go a few feet before he was exhausted. I knew he wanted to be close.
I unhooked his favourite bed, a circular, suspended one, and placed him inside with a warm, hot water bottle underneath the bed, and one of my smelly t-shirts to cover him with as a blanket. He was in bed, nuzzling into my t-shirt on my desk as I worked at my computer, yesterday. He was in the bathroom with me as I quickly showered and he was on my kitchen counter with me as I cooked dinner.
After one, final cuddle last night, I knew that it was time.  Without moving him from his bed, we said goodbye to the other animals in the house (he always loved the smell of the Tenrecs) and we drove to the vet.  Bear has always loved car rides, and he lifted his head with immense effort, to try and look out of the window as he usually would. Perhaps I shouldn't have, but the roads were quiet so late at night, and I cracked the window a little so that he could smell the outside world, and I raised his bed up so that he could see.
That was the hardest car ride of my life.
The vet was incredibly kind.  They respected my wishes not to move Bear from his bed, because he was so comfortable. They inserted a catheter into his leg, and Bear didn't flinch once. He just closed his eyes and leant into the nurses hand as she scratched him gently on his head to tell him what a good boy he was. After a few private minutes to be alone together, the vet returned to place him into his eternal sleep. 
I held Bears head in my hands and I kissed his nose as they gently injected the bright blue liquid into his veins. I cried the whole time. I could feel Bear start to slip away from me, but not before he tilted his head up slightly and licked the tears off of my nose.  Then he was gone.
As I write this, his enclosure still hasn't been touched. I can't bring myself to allow his scent to leave the house so soon. I can't bring myself to clear the boiler closet of the 'treasures' he has stashed there over the years. I keep expecting to hear his nails, tapping along the wooden hallway, checking for me in each room.
Of all the animals I've worked with, and the few which I've brought home with me to share my private life, Bear was special. He was my baby, and anyone who knew me or us would know that. He was also my best friend, my colleague, my first ferret and my greatest source of comfort.
The pain is real. The loss is devastating, but I take comfort in knowing that he will be sorely missed by people around the world who have already told me that they've found themselves crying for Bear. He truly was everyone's ferret, and I know his life was full and varied. He will be remembered by many children and adults across the country, my colleagues who also knew how special he was, my family, who although not 'animal' people knew that Bear was my heart, and all of the people who laughed at his silly pictures and videos on social media.
I always envisioned having a suitcase in one hand and Bear in the other, and that together we'd cross the pond to be with our American family.  Although that won't happen in the way I'd dreamed, I will still bring his ashes with me, and he will be placed somewhere central in the house, where he can keep an eye on his little sister, Dobby, who he never got to meet.
Thank you for everything, Bear. Although it's cliché to say, it's true; If love could have kept you here, you would have lived forever.
You'll always be my baby, and I'll always love and miss you.
'I stood by your bed last night, I came to have a peep. I could see that you were crying... you found it hard to sleep. I dooked to you softly as you brushed away a tear. "It's me, I haven't left you... I'm well, I'm fine, I'm here." I have so many things to show you, there is so much for you to see. Be patient, live your journey out, then come home to be with me.'
*Thank you everyone for your messages and support. You've helped me through this so much*.